Manufacturing facility : 12515 Maxim Drive, Houston , Texas, 77065
Welcome to the Internet site of Interfor Usa Group Inc.
Interfor Usa Group Inc. is a company specialized in the manufacturing of tactical firearms and equipment, founded by firearms enthusiasts and professionals for the satisfaction of all legal firearms and accessories/parts for the needs of the law abiding citizen worldwide.

Please go to our ABOUT US page to read about Interfor Usa Group founders and IMPORT EXPORT - HOW TO page to get a guide on how  to legally export firearms from the USA to your country with our collaboration.
Feel free to contact us at the CONTACTS page or via email at :
This is our Swedish K / M45 semiauto build from an original Vietnam War parts kit (very rare nowadays).
The gun is 99% ready, final retouches and then goes to customer. 
Pretty soon we will publish a guide on how to build this gun from an original parts kit.
This time we test fire a MK5 Sten SOE clone. This gun was built on order for a customer who wanted a MK5 rifle but did not like the "ant eater " appearance of the mandatory (by law) 16" barrel. For this reason we decided to build a clone of the MK5 SOE silinced version, equipped with a fake silencer. This gun is just half inch longer than the original MK5 SOE and is pretty similar to the original gun.
This time Phil Oxley test fires the M53 (HK53 clone) in 5,56 with a SB Tactical SBT5A brace, built for a customer.
These brace are rated by the manufacturer for the MP5 9mm but with some attentive work can be adapted to the 5,56 HK53 thanks to the aluminum end cap).
The looks are super cool and this probably the best brace you can have on HK53 or MP5. Still have to test the newer SB HK PDW which resembles the original MP5 telescopic stock (and is HK53 rated too).
It is about the same price but seems that every time we ask a customer they go always for SBT5A probably because it is widely tested. 
If you do the conversion at home work cautiously and test fire a lot from low position (away from face) at least for the first 50 rounds, ALWAYS USE EYE PROTECTION as an over filed end cap could fail and let go of the recoil rod to the rear in direction of the shooter's face.
The end cap can always fail (it happened on another gun with a RUBBER end cap, never with an ALUMINUM end cap) but if you wear eye protection the recoil rod will come out of the rear and barely will touch the goggles (if you are pointing the gun at eye level). Forewarned is forearmed.
See the design of the two SB Tactical braces here: 
We tested yesterday our latest build, the Sten MK5 Commando pistol.
A gun exactly like this was issued to French Foreign Legion and other French Commando units at the end of the WW2 and following wars. The rear grip was called "poignee de commando" (guess it is something like "Commando Grip"). It was a MK2 grip installed on a MK5 to have a short SMG for close assault duty.
This gun can be ordered in pistol or rifle version (16" barrel). 
We strongly advice to order the 16" SOE version with fake silencer tube (coming soon) which is very similar to the Sten MK6 issued to SAS (Australian) units in the Vietnam War.  The long barrel "ant eater" version does not look good on this gun, at least in our opinion.
One of our customers ordered one of our HK53 clones (M53) in 5,56 cal. and liked the gun so much that he decided to add a SBT5A brace. 
We guess it required a little file work on the end cap as the SBT5A is designed for the MP5 whose receiver is a tad smaller than the HK53 but we must admit the result is excellent. The gun looks so good that we will offer the SBT5A brace as an optional in the future. We thank our customer Mr. M.J. for sending us the picture and the appreciation, he sure has earned a discount on next order. 
You will also see that the gun is sporting now a Pro Mag 5,56 magazine. Contrary to rumors these magazines are not bad but simply need some file job to be adapted to the gun and are a voable alternative to expensive and often worn out original HK magazines. Compliments to out customer again for a job well done.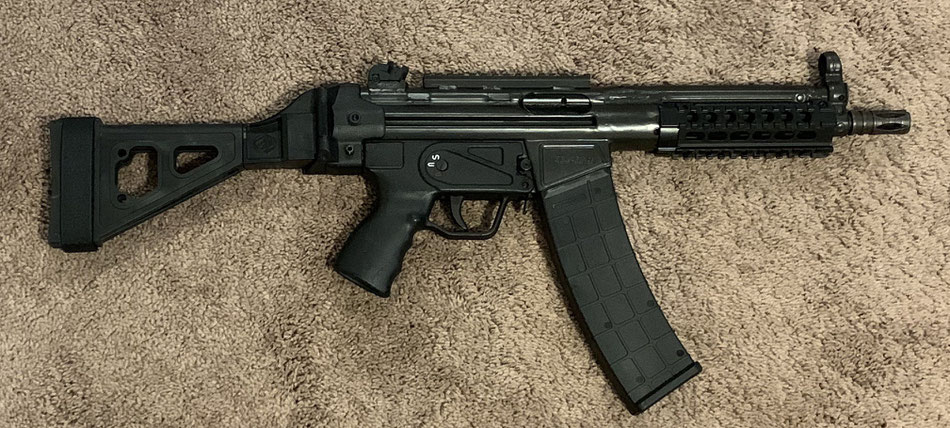 This is the test fire of the MC51 Best in 7,62 Nato. 8.5" barrel, (MP5 length), 20 rd in 7,62 Nato sheer power. This can be build on order right now. Reserve a spot in the build line with $150 advance payment. We are also working on a 4.5" version, named the MC51K, it will need a lot of fine tuning to work with such a short barrel but we are getting to it.
The task was not easy. The customer wanted a Sten Mk3 which could be disassembled like an MK2. 
As you probably know the MK3 was the cheap version of the Sten family and was completely pinned to save costs; this meant that the tropps could not maintain and was designed to be left back and taken to maintenance facilities which could remove the pin and repair it.
The troops hated it and the customer did not like a gun which could not be serviced in house so he asked us to male a MK2 and make it look like an MK3.
So we decided to make a 2 piece rib which would end in line once you screwed in the front barrel nut (or sleeve).
If you look attentively you can see a very small cut in the front rib. The threads on the front barrel nut (sleeve) had to be treated with anti seize paste because the rib is straight when the front sleeve is fully torqued into the receiver. 
Making the sleeve perfectly straight was a pain (the sleeve could fully torque left or right every time it was reassembled) but I think we did a good job. If you look attentively you can see a small cut in the front rib where the fornt rib aligns with the rear (receiver rib).
Phil Oxley testing our latest build: a 9mm AR15 complete gun 4.5" barrel and ENDOMAG system. What is ENDOMAG ?
ENdomag is substantially a PMAG magazine converted to 9mm by MEAN ARMS , with its own ejector (on top of magazine).
With this magazine you can shoot your 9mm upper (or 9mm gun in this case) then unpin the lower and use your 5,56 or .300 (or whatvere caliber) upper without any other modification. 
End of the Stone AGe of dedicated lower. Welcome of the Era of the multicaliber lower. 
After the tests of today the gun will be cleaned and prepared for presentation as a product and sale. The price ? $850 all included for the complete gun. 
Pretty soon available in 5.5" 8.5" 10" 12".